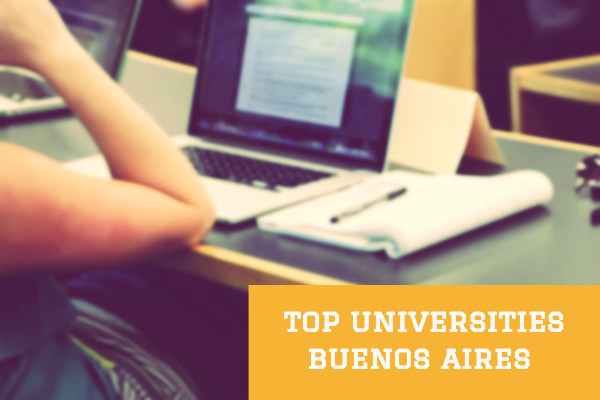 Argentina is one of the most appealing countries in the world to study abroad. The experience of being an exchange or foreign student in Buenos Aires is fostered both by its diverse culture as by the fact that it is home to some of the best universities in South America, offering a wide variety of courses and programs. Whether you are looking for subjects related to medicine, anthropology, engineering, business, film, and many others, Buenos Aires can also become your university of life, as it is a cultural melting pot and a city full of excitement. As George Clooney would definitely put it while having a coffee in one of the typical porteño cafés: when deciding on a location to study abroad, the question is not 'where?', but rather 'where else?'
Buenos Aires is considered to be one of the most developed cities in South America and has become one of the major expat hotspots in the last few years. The combination of a European heritage (regarding its population and architecture) and a typical Latin-American idiosyncrasy makes it a great destination for Americans and Europeans looking for excitement not so far out of their comfort zone. Excitement in this lively city comes in the form of late dinners, vibrant nightlife, and deep emotional conversations (which will grow on you, trust me!). Furthermore, for students arriving with euros, pounds or dollars, the cost of living will be considerably cheaper than back home, including housing costs in different areas of the city.
Where to study: Top BA Universities
The education system in Argentina consists of different levels (kindergarten, elementary school and high school), the final step being the graduate or post-graduate stages -which include adult education at different universities, many of which are located in Buenos Aires. Universities in Argentina are either private (privately run) or public (state run), and their academic contents are regulated by the National Ministry of Education. Moreover, most of the public universities are free for undergraduate students, and tuition fees for all courses in all educational facilities are generally cheaper than in most European or American institutes.
As Argentina's official language is Spanish, the second-largest native language in the world, many students travel to Buenos Aires to study Spanish as a foreign language. Many universities offer different kind of programs, such as summer or winter courses. You can also sit for the Certificate of Spanish: Language and Use (CELU) exam, a proficiency test that can be used as a formal qualification in working or academic contexts in several countries around the globe.
If looking for something other than language lessons, there are many subjects to choose from. If already enrolled in a course back home, check for the different agreements or partnerships your college may have with Argentinian universities. Although it's not a full list, here are some names of the best universities for international students to help you decide.
Universidad de Buenos Aires (UBA)
It is a public university (and therefore, free for undergraduates) and one of the most prestigious in the country. Foreign students can take any of the courses it offers for one or several semesters or learn Spanish at its language institute Centro Universitario de Idiomas (CUI). Even though it may not have the best facilities, its faculty is generally considered to be the most respectable in Argentina.
Accommodation: Furnished apartments near UBA
Universidad del Salvador (USAL)
This private university offers many courses, such as international relations, business, and economics, as well as language lessons for foreign students to take up Spanish as a Second Language. It also has partnerships with different universities around the world for students to be able to engage in exchange programs.
Universidad de Belgrano (UB)
It offers the program Argentina: History and Society, a course in English on Argentine history, economics, politics and literature. It also teaches Spanish as a foreign language, as well as some topic-specific courses, such as the Latin American Studies Program -which takes fifteen weeks- or other one-semester long regular classes. It is one of the most expensive private universities in the city, but it's worth it!
Accommodation: Furnished apartments near UB
Universidad de San Andrés (UdeSA)
You can take short Spanish lessons in this private university, as it offers language lessons that last for less than one semester and may include intensive options. Longer courses include the Program in Latin American Studies and exchange options. San Andrés Summer School also offers the LATAM Graduate Business Program, which focuses on Latin American economy. It is also an expensive yet rewarding choice.
Universidad de Palermo (UP)
This private university (UP) is the most popular choice amongst Latin Americans studying abroad in Argentina. It offers two language courses that last for one semester: regular Spanish lessons (beginner, intermediate and advanced levels) and the Latin American Culture Identity Program, which also includes learning about the culture of the region. It also has custom-made programs, where you can take regular undergraduate or graduate classes with local students.
Some tips to study abroad in BA
Remember that, whatever course you decide upon, a student visa will be required. If your passport allows you to enter as a tourist without a visa, you may be able to obtain a student visa after arrival in Buenos Aires, within 30 days of admission at the local university. And also take into account that the academic calendar goes from March to December, in case you decide on a course where you can take classes with local students. Most private universities also allow students to start at the beginning of the second semester, in August. Moreover, for some postgraduate courses, Argentina requires the validation of degrees: in medicine, dentistry, nursing, psychology and biochemistry. Finally, bear in mind that local bureaucracy may take some time, so make sure to start any paperwork in advance!
In any case, Buenos Aires will welcome you with open arms (the city government will even give you a free SIM card upon request at arrival (https://turismojoven.buenosaires.gob.ar) and its citizens will make sure that your experience here is both remarkable and unforgettable. Oh! And the weather is great. What are you waiting for?