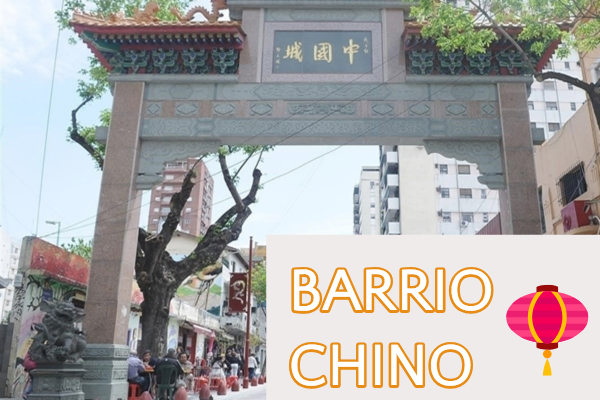 Is there a Chinatown in Buenos Aires? There most certainly is. Though small, this Chinese neighborhood is every bit as good as New York's or San Francisco's. At least 15000 visitors arrive every weekend to walk around or eat at one of its restaurants. Barrio Chino -as the locals call it- is situated in Belgrano, on the North of the city, and it is a must for visitors coming to Buenos Aires. Walking through, you will definitely notice the street names written both in Chinese and Spanish.
At least 15000 visitors arrive every weekend to walk around or eat at one of its restaurants.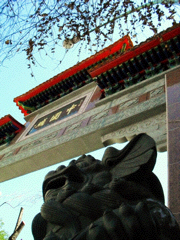 The entrance to this mini-neighborhood is marked by an imposing ornate stone archway -a gift for the Argentina Bicentennial from China in 2009- located at the intersection of Juramento and Arribeños, just across the street from one of the busiest train and bus stations in the city. The arch is eleven meters tall and eight meters wide, presenting many symbols of the Chinese culture, such as the guardian dragons. A great spot to take pictures.
After that, it only lasts for a few blocks and some perpendicular arteries, with over 100 Asian owned businesses, such as restaurants, supermarkets, and shops, all of which offer quite different products than in the rest of the city. A multicultural district, there is also a Buddhist temple, a Presbyterian church and a Jewish synagogue. Barrio Chino is bounded by the streets Juramento, Arribeños, Montañeses and Monroe avenue, but its borders are stretching outward each year, as the neighborhood flourishes. Every February, Chinese New Year is typically and massively celebrated here.
A little bit of the history: the Chinese community in Buenos Aires
Chinatown started to develop in the 80s, when immigrants from Taiwan and China began settling in the area. However, despite being considered the Chinese center of the city, this area is actually populated by different communities: Taiwanese, Korean, Japanese, Thai, and Laotian. Moreover, not all of the Asian newcomers have settled in Belgrano (see accommodation), as they actually comprise less than 1% of its population. In fact, most of the city's Asian residents live in cheaper neighborhoods such as Once, Flores and Barracas.
In the late 90s, after a second wave of Asian immigration, this enclave became a hub for Asian food restaurants as well as supermarkets and stores with imported products from all over the world that could not be easily found elsewhere in Buenos Aires. As more and more porteños and tourists visited Chinatown, it became a major touristic and local spot for weekends. You can just hop-off at the "Belgrano Barrio Chino" stop of the official city sightseeing bus, three blocks away from the arch, at the intersections of Del Libertador avenue and Juramento street.
Buenos Aires' Chinatown: the main attractions
As you walk along Arribeños street, you will soon encounter many shops selling made-in-China products such as toys, jewelry, clothes, eyeglasses, purses, angel bells, decorative objects, porcelain cups, and even J-pop (Japanese pop music), all of the them at very reasonable prices. In many of these stores you will find some signs warning you about breaking any objects, in a somewhat dubious Spanish. Basically, if you break, you pay!
One of the major tourist attractions in Chinatown Buenos Aires is the Tzong Kuan temple in Montañeses street, which was inaugurated in 1988. It is one of the few temples in the city, a place where apart from engaging in spiritual activities, you can take meditation lessons, Chinese calligraphy, Mandarin, Kung Fu and Tai Chi. If looking for some Chinese medicine, Chinatown is also the place, as you may find acupuncturists, doctors and herbalists. There are also many beauty and massage salons.
Barrio Chino: the food
It's the food, stupid. Bill Clinton would probably remind us that the most relevant attraction in Chinatown is the food. Not only it's filled with restaurants and street shops serving real and not-so-real Asian food, it also features supermarkets with products that porteños can only find here, or with cheaper offers. I'm not exaggerating. Shops are generally open from 9 am to 9 pm. As for the restaurants, you can always find good-priced fixed menus for lunch. Be warned, though, they are mostly closed on Mondays and many of them only accept cash.
Where to do the groceries: the supermarkets in Chinatown
Don't be turned away by the overwhelming smell that may discourage you as the enter Asia Oriental. This is one of the major supermarkets in the district, where you will be able to find a great variety of seeds, spices, and condiments unavailable in other venues, as well as typical Asian kitchen-ware and appliances. Unique products and ingredients include dried seeds and fruit, a large variety of teas, rice noodles, wasabi, fresh fish, and seaweed.
Casa China is one of the oldest supermarkets in the neighborhood. It offers a wide selection of beans, grains, dried fruits and vegetables, and nuts in bulk for a reasonable price. If you are a fan of Japanese peanuts (cracker nuts) you must try all the ten flavors this store has to offer. Other products, such as vegan ice cream and butter, as well as vegetarian hamburgers are also available here.
Don't miss the refrigerated section in Ichiban supermarket and take home some pre-made dumplings or fried tofu for a typical Chinese dinner at home. Here you will also find a large selection of fresh fish and sushi as well as grains, great fresh vegetables, and Chinese, Japanese and Korean products with labels in incomprehensible languages! You may also find okra and edamame, both pretty rare in the rest of the city.
Tina & Co is one of the newest Chinese-like grocery stores in Barrio Chino and one with the most imported products. It's not really a supermarket, but more of a multi-store, featuring commodities like cheeses, coffee, beers and candy. Unlike the other supermarkets, it also has a food court inside. And it is a little bit more expensive, as it sells its products pre-packaged instead of in bulk.
Where to eat: the Restaurants in Chinatown
There are many restaurants in Chinatown, where you can have a delightful chopstick lunch or dinner. Hong Kong Style is the only restaurant in the city -so far- serving food in the typical dim sum style, that is, small portions served in steamer baskets. Don't miss the steamed dumplings, kung pao chicken and shrimp fried noodles. The kitchen can be slow, so be prepared to wait. For dumplings and noodle soups you can also go to Mian Bistro.
For a more informal typical Chinese meal, you can always go to Palitos, one of the oldest restaurants in the district, or to Todos Contentos (literally "everyone happy") for a classic chaw fan or chaw mien. You can always buy fried food to go from restaurants with counters facing the street and sit on a bench to enjoy prawn brochettes, pork Chinese sausages, fried seafood and tofu, or spring rolls.
If looking for a cup of tea, don't miss Buddhaba, a tea house art gallery, all in one, where you can enjoy a cozy Jasmin tea and visit the bonsai terrace. Other major restaurants in Chinatown include Lotus Neo Thai, obviously for Thai food, Fujisan and Dashi for Japanese, BQQ Town for Korean and Lucumma for Peruvian.
How to get to Chinatown
You can get here by train, bus or subway.
Buses: Many colectivos take you to Chinatown. Some of them are: 15, 29, 42, 44, 60, 63, 64, 65, 80, 107, 113, 114, 118, 130. You can download the city government's app Cómo Llego to decide.
Train: Belgrano C Station, Bartolome Mitre line. The train station is just across the street from the arch. It is the line that you take to go from Retiro to Tigre.
Subway: Juramento Station, Line D. The station is at the intersection of Juramento street and Cabildo avenue. From there, walk six blocks down Juramento. When you see Barrancas de Belgrano park on your right, you will need only to cross the railways and there you are!
Going by car is not recommended as the streets are pedestrianized and it can get very crowded.
A map of Chinatown