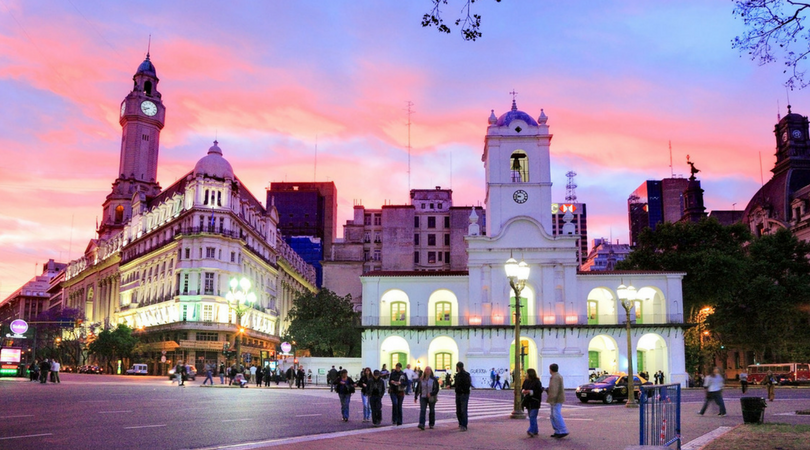 Undoubtedly, visiting the Historical Quarter of Buenos Aires City is a must for both tourists and locals. Located in the southern area of the city, the Historical Quarter is filled with the oldest buildings in Buenos Aires. Formed by San Telmo and Montserrat neighborhoods, it is characterized by its cobbled streets, streetlamps, balconies, patios with wells, churches, museums, fairs, coffee stores and tango sounds that invade all the corners giving Buenos Aires its identity.
Now let's take a look at the six areas that form the Historical Quartes of Buenos Aires City, together with its main attractions and tourist spots.
Touring around Buenos Aires
AVENIDA DE MAYO
The famous De Mayo Avenue joins the Casa Rosada (Government House) and the Congreso Nacional (Argentine Congress). Declared National Historical Spot, its blocks are filled with wonderful buildings and emblematic bars where important figures of Argentine culture and art used to meet at the beginning of the 20th century. The main attractions of this area include: Plaza de Mayo, Casa Rosada, Banco de la Nación Argentina, Catedral Metropolitana, Cabildo, Palacio de Gobierno de la Ciudad de Buenos Aires, Casa de la Cultura (ex Diario La Prensa), Confitería London City, Café Tortoni, Teatro Avenida, Bar Los 36 Billares, Antiguo Hotel Majestic, Edificio ex Diario Crítica, Edificio Barolo, Edificio La Inmobiliaria, Congreso de la Nación and Confitería del Molino.
INSTITUTIONAL AREA
In the Institutional Area, there are the historical buildings and spots in the city and the country, where Argentine intellectuals were educated. The main attractions of this area include: Manzana de las Luces, Iglesia San Ignacio, Colegio Nacional Buenos Aires, Librería de Ávila, Casa de María Josefa Ezcurra, Museo de la Ciudad, Farmacia La Estrella, Altos de Elorriaga, Monumento a Julio A. Roca, Solar ex Casa de la Virreina, Museo Etnográfico Juan B. Ambrosetti, Casa de la Defensa, Museo Nacional del Grabado, Iglesia y Convento de San Francisco, Capilla San Roque, Iglesia Presbiteriana Escocesa de San Andrés, Café La Puerto Rico, Plazoleta San Francisco, Bar El Colonial, Casa de Rivadavia, Solar de Manuel Belgrano, Edificio Calmer, Casa de José Hernández and ex Biblioteca Nacional.
BALCARCE – CHILE CIRCUIT
This Circuit is characterized by its cobbled streets, its elegant buildings and its narrow passages, as 5 de Julio and San Lorenzo Passages, where the most narrow house in Buenos Aires, called "Casa Mínima", is located. Nowadays, this area is famous for its tango clubs, bars, restaurants and great nightlife. The main attractions of this area include: Basílica Nuestra Señora del Rosario, Convento de Santo Domingo, Pasaje 5 de Julio, Complejo Cultural y Departivo Suterh (ex usina y talleres del Diario La Prensa), ex Casa de la Moneda, ex Imprenta Stiller y Lass, Fundación Antorchas, Pasaje San Lorenzo, Casa Mínima and Zanjón de Granados.
JESUIT SAN TELMO
Surrounded by buildings from the 19th century, bars and restaurants, and the emblematic Plaza Dorrego and its famous Antique Fair, San Telmo has always been the neighborhood cosen by artists and tango lovers. The main attractions of this area include: Mercado de San Telmo, Plaza Dorrego, Feria de Antigüedades, Galería del Viejo Hotel, Paseo del Anticuario, Pasaje La Defensa, Galería Solar de French, Protomedicato, Escuela Guillermo Rawson, Pasaje Giuffra, Iglesia Dinamarquesa, Museo del Cine, Museo de Arte Moderno del Gobierno de la Ciudad, Museo Penitenciario Argentino Antonio Ballvé, Casa de Juan Carlos Castagnino, Antigua Tasca de Cuchilleros, Casa de Esteban de Luca, Bar Sur, Secretaría de Agricultura, Ganadería y Pesca, Facultad de Ingeniería and Monumento Canto al Trabajo.
PARQUE LEZAMA
Parque Lezama is, undoubtedly, one of the most beautiful parks in Buenos Aires, thanks to its design and view over Paseo Colón Avenue. The main attractions of this area include: Iglesia Ortodoxa Rusa, Edificio Canale, Edificios de la Avenida Caseros, Museo Histórico Nacional, Bar Británico and Maison Garay.
MONTSERRAT
Nuestra Señora de Montserrat Church, declared National Historical Monument, gives name to Montserrat neighborhood, where you will find a great variety of restaurants and several buildings of huge value. The main attractions of this area include: Iglesia San Juan Bautista, Iglesia Nuestra Señora de Montserrat, Mercado San Cristóbal, Club Español, Santa Casa de Ejercicios Espirituales, Asociación Argentina de Actores and Lotería Nacional.