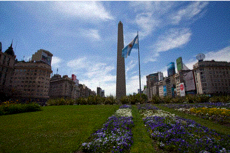 9 de Julio Avenue is one of the most important spots in Buenos Aires. It is one of the widest avenues in the world and its name pays homage to Argentina's Independence Day, which took place on July 9th, 1816. This beautiful avenue crosses Buenos Aires linking the northern and southern areas of the city.
Engineers began to build this avenue in 1936. It was inaugurated in different phases and underwent different changes through the years until getting 140m wide, i.e. it was widened due to the traffic flow in Buenos Aires City. The emblematic Obelisk, a monument commemorating the foundation of Buenos Aires that is located on the intersection of 9 de Julio and Corrientes Avenues, is a popular meeting point for residents, whether to manifest or to celebrate championships.
This emblematic monument is surrounded by the square called Plaza de la República, where visitors can contemplate the coat of arms of the different Argentine provinces. Along 9 de Julio Avenue, it is also possible to appreciate the wonderful British architecture displayed in Constitución Train Station, the Monument to Don Quijote on the intersection of 9 de Julio y De Mayo Avenues, and the France Embassy on the latter stretch.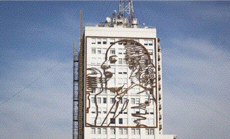 On the intersection with Viamonte St., visitors can see the extraordinary Colón Theater, an ode to architecture; and on the intersection with Belgrano Avenue, the building of Ministerio de Salud de la Nación (ex Ministerio de Obras Públicas), where some months ago a metal structure forming Eva Perón's face where mounted on two of its sides in order to commemorate a historical speech the ex First Lady gave from one of its windows.
9 de Julio Avenue is crossed by five metro (subte) lines. That's why staying at a furnished apartment for temporary rent close to this emblematic avenue makes easy to move around the city to get to the main tourist spots. Take a look at this selection of our coziest flats in the surrounding area of 9 de Julio Avenue, in Downtown Buenos Aires:
Comfortable one bedroom flat only two blocks away from Córdoba and Corrientes Av.
Lovely one bedroom apartment very close to Cerrito Av.