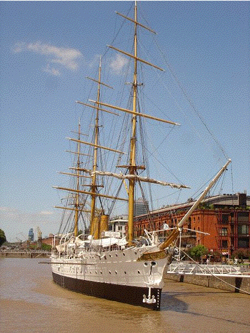 Fragata Presidente Sarmiento is the first training ship of the Argentine Navy and was named after the seventh President of Argentina, Domingo Faustino Sarmiento, who always wanted that young marines travel around the world to complete their education. The ship was finished in 1896 and, after several tests, it finally left Liverpool's port, in England, on July 14, 1898, and arrive at in August of 1898.
From its arrival in Buenos Aires in 1898 to 1939, Fragata Presidente Sarmiento made 39 trips around the globe, along which it covered 2.035.000 km aproximately. It continued to serve as a training ship until 1961. A year later, in June, 1962, Fragata Sarmiento was declared National Historic Monument.
Currently, Fragata Presidente Sarmiento is located in Dock 3 (Dique 3) in Puerto Madero neighborhood, a few meters away from the famous Puente de la Mujer, and it is the only XIX-century training ship that has been maintained untouched. On May 22, 1964, Fragata Presidente Sarmiento became a museum, where several interesting items are exhibited: a stone of the Great Wall of China, the embalsamated body of Lampazo –the Fragata's pet– and an Argentine Flag designed in Shangai, which sun was embroidered with Oriental eyes.
Fragata Presidente Sarmiento can be visited any day of the week, from 10 am to 7 pm. A Catholic Mass is celebrated on board every second and fourth Sunday of each month. Due to security reasons, the ship is closed to visits on rainy days.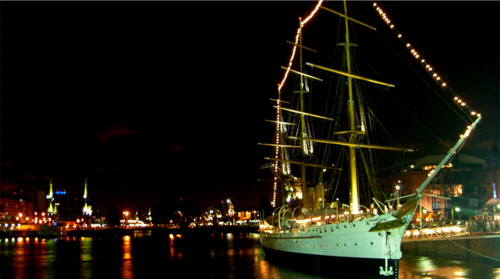 CONTACT:
Av. Alicia Moreau de Justo 980, Dique 3, Puerto Madero, Ciudad de Buenos Aires, Tel.: 4334-9386