Thanks to the urbanization works recently carried out by the Buenos Aires City Administration, nowadays it is possible to tour around the city and to commute to work on a bike. In the framework of the Sustainable Mobility Plan, the Buenos Aires City Administration promotes biking throughout the building of new bike lanes and tracks.
Three bike lanes were already inaugurated in Buenos Aires. All of them offer a different view of the city: Interparques Bike Lane, Sur Bike Lane and Parque Tres de Febrero Bike Lane. Interparques Bike Lane is the longest one and connects eight neighborhoods of Buenos Aires, going past Del Libertador Av., Cabildo Av., Parque Saavedra, Parque Sarmiento, San Martín Av., Constituyentes Av., Dorrego Av., Warnes Av., Parque Centenario and Rivadavia Av. Sur Bike Lane is the shortest, starting at Roca Av. and General Paz Av., and ending at Erezcano Blvd. Finally, Parque Tres de Febrero Bike Lane starts at Buenos Aires Hippodrome and Lawn Tennis Club and ends at the famous Rosedal and Palermo Lake, going past Figueroa Alcorta Av., La Pampa St., Costanera Rafael Obligado Av., Jorge Newebery Airport, Ciudad Universitaria, Buenos Aires Velodrome and Buenos Aires Planetarium. (Check a map and get detailed information about Buenos Aires Bike Lanes by clicking here.)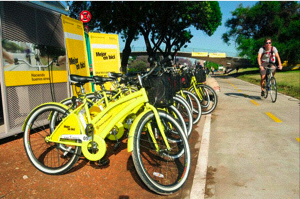 Apart from bike lanes, the Buenos Aires City Administration implemented the so called "Bicing", the first bike public transportation system in Argentina. This system aims at providing a non-polluting healthier means of transportation, as the ones succesfully implemented in the main capital cities in the world, such as Paris and Barcelona. There are already 100 bikes on the streets and three docking stations located at UBA Law School (Figueroa Alcorta Av. and Pueyrredón Av.), Retiro (in front of Mitre Train Station) and Plaza de la Aduana (Paseo Colón Av. and Moreno St.). According to the original project, Buenos Aires neighbors will be have 5000 bikes and 200 docking stations at their disposal.
The purpose of this measure is promoting the bike as a means of transportation in Buenos Aires, reducing environmental and noise pollution, avoiding traffic jams, decreasing the number of cars on the streets –specially, on Downtown streets– and helping people achieve a more active and healthful lifestyle. Have fun visiting Buenos Aires by bike.