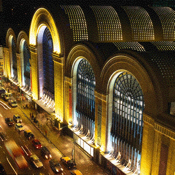 Jonathan is an English man who, after traveling around different Latin American cities, decided to leave his European life behind and start a new life in his new favorite city: Buenos Aires. His passion for this cosmopolitan city is so huge that he decided to organize free tours around Buenos Aires and created Buenos Aires Local Tours.
The tour leaves everyday, from Monday to Saturday, at 11am, from the meeting point located at Plaza Italia, Palermo, where the statute of Garibaldi on a horse is situated. It is not necessary to book or to get into contact: Tourist only have to go to the meeting point at the indicated hour.
The tour organized by Jonathan does not follow the typical tourist path of Buenos Aires. This English man in love of this city shows tourists, in three hours, a different Buenos Aires that includes walking and commuting by public bus and metro, apart from amazing stories about the spots visited during the tour.
Among the most interesting tourist spots of the tour, we can find: Abasto neighborhood and the house were the famous tango singer Carlos Gardel was born, the Argentine Congress and Plaza Congreso, Palacio Barolo and the mythical Av. de Mayo, a trip on a 1930 wood metro, Plaza the Mayo and the Government House, and other spots full of history, culture and art.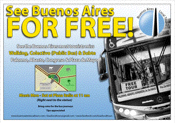 This exclusive tour is particularly special because it is completely free of charge. If fact, you will only have to pay for the bus and metro journeys –that is why it is important to have change and coins. Tips are quite appreciated and depend on the criterion of each tourist.
During your visit to Buenos Aires, there is nothing better than living as the locals. To do so, rent a furnished apartment.