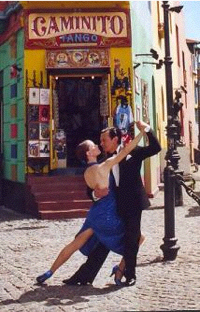 On the southeastern side of Buenos Aires, there is the picturesque La Boca neighborhood. Its aesthetics of curious colors and irregular shapes corresponds not only to its architectural history but also to its people. Narrow streets, bright colors, different heights and gaily painted houses are the visual characteristics given by the lively Italian immigrants that arrived at the end of the 19th century. They grew in different groups and developed not only work activities related to the port business but also cultural gatherings and a bond of hospitality.
However, this neighborhood is better known not only for its spectacular Boca Juniors stadium, but also for having the most colorful and charming outdoor museum in the world: Caminito a traditional small street with a great cultural and touristic value that inspired musician Juan de Dios Filiberto to compose the celebrated Caminito tango (1926).
Along 150 meters, on an old train line abandoned in 1928 and recovered in 1950 by the famous painter Benito Quinquela Martín, Caminito is a joyful pedestrian and cobbled street where artists and craftmen exhibit their works of art and crafts, and dancers and musicians delight visitors with their tango.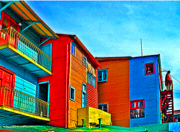 Besides, Caminito offers a travel through time, since, as people walk along this nice street in La Boca neighborhood, they can contemplate old conventillos, the typical house built with metal sheets painted in bright colors where the first Genoese immigrants lived when they arrived in Buenos Aires. In its surroundings, there are lots of bars and restaurants offering the typical dishes port workers used to ask for lunch.
It is impossible to be in Buenos Aires and not to visit these old charming streets of Caminito that have always characterized La Boca neighborhood.