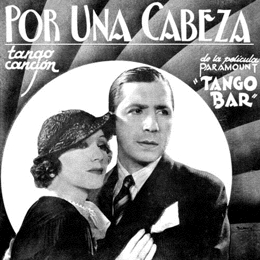 Buenos Aires music is an art that people breath in every corner and is considered an important symbol, specially in the case of Tango. Since its popular origins, this musical genre has built up some talented icons: Carlos Gardel is undoubtedly one of them.
Abasto neighborhood was the place were this artist grew and developed his talent. For that reason, the city pays hommage permanently to him by means of the statute, the names of the streets and also the Carlos Gardel Museum: located in the house where the artist lived with his mother, it was refurnished by Museum General Office (Dirección General de Museos) in order to turn it into a museum devoted to recover, preserve, exhibit and promote the work of Gardel.
This House-Museum in Abasto offers three ways of thinking about the life of Carlos Gardel: "Time and Space", a tour that reconstructs the experience of Gardel's time and place, different from ours; "Gardel and Tango", a tour that offers a glimpse of Carlos Gardel through tango history in the world; and finally "Character and Myth", a deeper view to understand Carlos Gardel beyond that of the boy from Abasto that conquered the world.
Until February 29, Carlos Gardel Museum will offer and exhibition covering the discography of the artist, released during the 30's. Music scores will also be exibited, even the ones of the most succesful tango songs, such as "Zorzal Criollo" and the ones of Gardel's beginning along with José Razzano and Alfredo Le Pera.
The Museum is located on 735 Jean Jaures St., and it is open on Monday, Wednesday, Thursday and Friday, from 11am to 6pm, and Saturday, Sunday and Holidays from 10am to 7pm. Tickets cost only AR$1.