PLAZA SERRANO: A DAY-AND-NIGHT ATTRACTION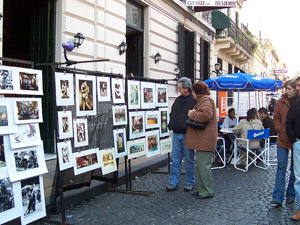 Located in the traditional Palermo neighborhood, Plaza Serrano is famous both for its night and day activities. During the day, it is a spectacular craft and design fair; but, at night, it becomes the meeting point of young people from Buenos Aires, where restaurants and bars around the square play the leading role.
During the 80's, several bars and restaurants were built around this square located in the intersection of Honduras and Jorge Luis Borges Streets. Since then, Plaza Serrano is the place young people from Buenos Aires choose to gather with friends every weekend. Some years later and due to the bohemian air that surrounds Palermo neighborhood, artists, craftmen and designers decided to exhibit their designs in Plaza Serrano to all the people that walk around the neighborhood.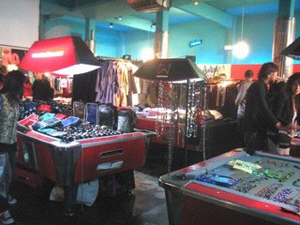 Nowadays, Plaza Serrano has, undoubtedly, become the epicenter of fashion in Buenos Aires. Bars and restaurants around the square started to open their doors not only to offer drinks and food, but also to sell the production of talented clothing and accesories designers. Thus, every weekend, bars are turned int true design fairs, in which thousands of people wander around to find an original t-shirt or a nice necklace. Men, women and children: There's plenty of stuff for everybody in Plaza Serrano!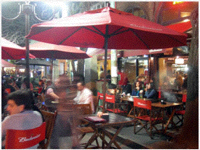 However, the hustle and bustle of Plaza Serrano continues after the sun goes down. As the street lights start to come on, restaurants and bars are ready to receive people for the night. Snacks, beer and drinks replace the clothes and accesories that fill the neighborhood during the day. There are several options: fast food restaurants, bars with dancefloors, pubs with pool tables, etc.  Definitely, Palermo is ready to satisfy everybody's tastes.
How to get to Plaza Serrano?
Take any of the following bus lines: 34, 39, 55, 57, 140, 142, 151, 166, 168.
Or take Subway Line D and get off at Plaza Italia Station. Then walk 9 blocks by Jorge Luis Borges Street, until you finally see the square.