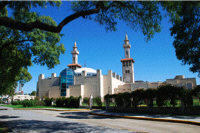 Buenos Aires offers a wide cultural, ethnical and religious diversity due to the different immigration groups that came to Argentina during the 20th century. Each community contributes to culture at the city and country level, and that is why the several religious temples enrich the urban landscape as well as its tourist circuits.
Catholicism is the official religion in Argentina. For this reason, Buenos Aires has several churches, such as Catedral Metropolitana, located in front of Plaza de Mayo, where the remains of Gral. José de San Martín, hero of the nation, rest; or Iglesia del Pilar, located on 1892 Junín St., next to Recoleta Cemetery, a church built during the colonial times. Another important church in Buenos Aires is Convento Santo Domingo, located in San Telmo neighborhood, where the rests of the Argentine flag creator Manuel Belgrano rest.
Jews are one of the most important communities in Buenos Aires, having some important synagogues with a great architectonic value, such as the one owned by Congregación Israelita, located on 761 Libertad St. and known as Templo Libertad, which was built in 1897 and is one of the first synagogues built in Buenos Aires.
The Mosque Rey Fahd was built during the 90's and is the most important Islam temple in Argentina. This mosque is has several fountains, a library with over 10 thousand books and a wonderful central lamp. Located in Palermo neighborhood, every Monday, Tuesday and Saturday at midday, a free of charge guided tour is offered.
Finally, in the intersection of Palermo, Belgrano and Colegiales neighborhoods, there is a Hare Krishna temple that has an annual agenda offering different activities. However, its "Special Sundays" invite people to participate, visit the temple and deepen their knowledge about Krishna wisdom. Every Sunday from 4.30pm, tourist can visit the temple located on 394 Ciudad de la Paz St.
Buenos Aires has both a wide cultural offer and a wide variety of accommodation. However, the most comfortable and intimate way to spend you holidays in this cosmopolitan city is renting a furnished apartment. If you are interested in culture and religion, there is nothing better than staying at our most elegant flats located in the surrounding area of the most famous temples in Buenos Aires.