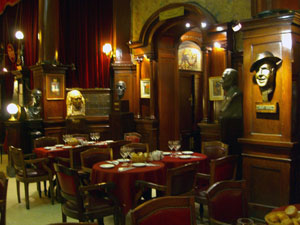 Bars and cafés are a cultural and social space in Buenos Aires that gathers its inhabitants to meet with comrades, neighbors and friends. Today we will present some of this Buenos Aires "temples", where several groups of people, with no particular excuse, meet to chat and, above all, drink something.
The remarkable bars in Buenos Aires form a circuit in which visitors may not only taste a wide variety of meals and drinks but also appreciate the architecture and contemplate part of the cultural history of the city.
The first bar is the mythical Café Tortoni. Located on 825 De Mayo Av. since 1858, the most important representatives of Argentine culture, such as Borges, Quinquela Martin, Storni and Gardel, have visited Café Tortoni when they were alive.
A few blocks away from there, on 645 Sarmiento St., The New Brighton is located. There it is possible to enjoy different coffee and tea blends, apart from a wide gastronomical offer, both at midday and at night, in an elegant environment decorated in Victorian style.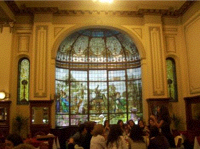 Having a noble style but located in Almagro neighborhood, there is one of the more traditional coffee stores that opened 125 years ago: Las Violetas. Located on the intersection of Medrano Av. and Rivadavia Av., Las Violetas offers an attractive menu. However, its specialty is baking. So, visitors going to Las Violetas at tea time must order a piece of exquisite cakes or cookies.
In Boedo neighborhood, with a not-so-pompous decoration, there is Café Margot: A traditional bodegón (mom & pop restaurant) famous in the area. Located on 857 Boedo Av., close to San Juan Av., this bar is one of the mythical corners in Buenos Aires devoted to typical local meals to enjoy with beer or wine.
Most traditional bars and cafés are located in Downtown Buenos Aires. However, there are well-known corners that are easily accessible with subte (metro) and buses. So, why not renting a furnished apartment during your visit to Buenos Aires.