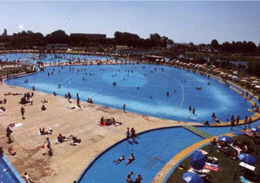 Summer 2012 is in Buenos Aires and the different events are combined with different outdoor activities, including public swimming-pools to struggle against the hot weather in Buenos Aires. So, there is nothing better that visiting these facilities and spend a nice time with your family and friends.
PARQUE NORTE
Parque Norte is a classic place to spend your summer. For AR$50, you have access to its huge swimming-pools decorated with palm trees and to other activities offered in the facilities, such as football, volleyball and basketball. Located in Belgrano neighborhood, on Cantilo and Guiraldes Av., Parque Norte is open Monday thru Friday, from 9am to 8pm, and Weekends from 8am to 8pm.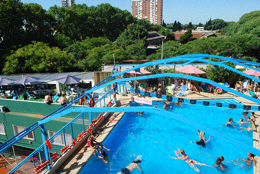 Strategically located in Palermo, Magic Center Club is a complex that offers different activities, including a several huge swimming-pools surrounded by trees that isolate visitors from the urban landscape and noise. Tickets cost AR$55, Monday thru Friday, whereas on Weekends it cost AR$70.
PUNTA CARRASCO
Another interesting option is Punta Carrasco, a complex located on Rafael Obligado and Sarmiento Av. (in front of Aeroparque Airport) that has a recreative sector composed by three large swimming-pools. Tickets per day cost AR$45 and it is open Monday thru Friday, from 10am to 8pm, and on Weekends and Holidays from 10am to 9pm.
Staying at a furnished apartment for temporary rent close to the neighborhoods where the best public swimming-pools in Buenos Aires are located is the best way to enjoy your summer holidays 2012 in this cosmopolitan city. Check out this selected list of our most comfortable flats:
Comfortable studio apartment for two people in Palermo.
Cozy three bedroom flat for five people in Belgrano.
Luminous 1 bedroom apartment for three people in Palermo.
Tickets per day:
Parque Norte: AR$50.-
Magic Center Club: AR$55.-
Punta Carrasco: AR$45.-