ART AND CULTURE AT TEATRO COLÓN
Teatro Colón (Colon Theater) is located in the heart of Buenos Aires City, in Argentina, and is one of the most important opera houses in the world, due to its acoustic excellence and its high architectural value.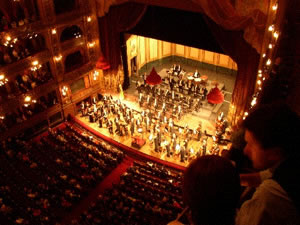 Inaugurated over 100 years ago, the first performance at Teatro Colón took place on May 25, 1908, when the famous Giuseppe Verdi's opera Aida was played. Throughout the years, the main local and international figures of music and ballet performed on its stage. By the end of the year 2006, the architectural masterpiece of Buenos Aires was closed due to plans for massive renovations. After almost 4 years of work and in order to celebrate Argentina's Bicentennial, on May 24, 2010, Teatro Colón reopened its doors to its beloved public.
From 1960, Instituto Superior de Arte (Teatro Colón's Arts College) is devoted to bringing high-level professionals from all music and dance disciplines. Some of the excellent artists that studied at Instituto Superior de Arte are: Julio Bocca, Maximiliano Guerra, Paloma Herrera, Eleonora Cassano, Bernarda Fink, María Cristina Kiehr, among others.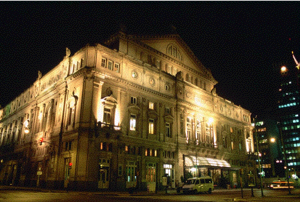 Declared National Historic Monument of Argentina, Teatro Colón organizes a guided tour that invites those interested in art to walk around its wonderful facilities, from the Main Entrance, the Performance Room and the Golden Room to the Sculpture Room, the Museum and the underground workshops. The lovely visit takes almost one hour and is provided both in English and in Spanish. Besides, Teatro Colón also organizes guided tours in French and Portuguese, but these have to be scheduled 48 hours in advance. Due to preservation reasons, visitors can only take photographs in the rooms indicated by the guide.
MORE INFORMATION ON TEATRO COLÓN:
Address: 628 Cerrito St.
Guided Tour:
Fare for Residents: Consult *
Fare for Foreigners: Consult *
Visiting Hours: From 9am to 3.30pm
* Children under 6 years old are admitted for free. Retired people, pensioners and students receive a 50% discount only on Monday. Tickets can be purchased by phone, on the Internet or personally at Teatro Colón ticket office (1171 Tucumán St.).