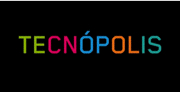 From July 15 to November 27, 2011, Buenos Aires presents the legacy of its Bicentennial generation in Tecnopolis. Located in Villa Marteli, province of Buenos Aires, in premises of over-50 hectares, Tecnopolis combines science, art, technology and innovation.
This spectacular exhibition, organizad by Unidad Bicentenario, Presidencia de la Nación, was conceived to exhibite the work, capacity, effort and talent of Argetine scientists. Tecnopolis, apart from offering a wide technological menu, allows visitors to enjoy conferences on science, experiments, workshops, shows and all type of activities.
Tecnopolis is divided into five continents: Air, Water, Earth, Fire and Imagination. Take a look at some of the main attractions in each continent: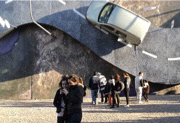 Earth: The Felix capsule with which the 33 Chilean miners were rescued last year; new developments on sustainable feeding; orchids in different stages; and the skeleton of a 14-meter-long dinosaur from 116 million years ago.
Water:  An ice floe that emulates the glaciers and reproduces the extreme temperatures in Antarctica; AYSA stand, where visitors may get deeper knowledge on the process used nowadays to purify water; and the Biodiversity Tunnel, which invites visitors to take a tour of the extense Argentine territory and its different regions, such as the arid desert, the huge ocean, and the lush woods and forests.
Air: Seven exhibitions on aerospace developments in Argentina; a real scale Aerolíneas Argentinas plane where visitors may, apart from sitting on any of its armchairs, have the experience of flying it thanks to the flight simulator; and the Pierre Auger laboratory, which has holograms, animations and a planetarium both for sighted and blind people.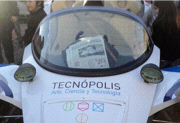 Fire: A nuclear simulator that shows visitors how a nuclear power plant works; Atlas II flight simulator; Neonahuel tank simulator; and a shooting simulator designed by the Argentine Ministerio de Defensa.
Imagination: New developments on robotics and nanotechnology; a F1 simulator; the possibility of interacting with holograms and seeing 3-D fantasmagoric beings; and meeting a robot specially designed to perform biotechnological research.
Besides, this hybrid between an outdoor museum and a scientific park also offers shows for adults and children. These are some of the most outstanding shows in Tecnopolis: Fuerzabruta, a group that presents daily different shows, and La Arena, a group that presents daily its show called Avalancha. There are also concerts by bands from different musical genres and special shows for children, which combine entertainment and education.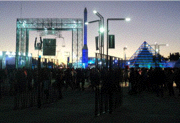 Tecnopolis is open from Wednesday through Thursday from 10am to 7pm, on Friday from 10am to 10pm, and on Saturday and Sunday from 12pm to 10pm, except on rainy days. Access to the premises, as well as all the activities, are completely free of charge. For more information on Tecnopolis and its exhibitions, shows and activities, click here.