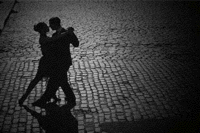 Tango is one of the emblematic symbols of Argentina and, particularly, of Buenos Aires. This musical genre, together with its distinctive and sensual dance, was born at the end of the 19th century in the suburbs of Buenos Aires, grew quickly in popularity and was internationally spread. Its lyrics are written in a local argot called lunfardo, and are marked by sadness, nostalgia and abandonment, expressed through melodic instruments, such as bandoneon. The sensuality of its dance can be observed in the embrace of the couple, whose bodies are always in touch and transmit the intensity of tango music and lyrics. Among its leading figures are famous singer Carlos Gardel, excellent composer Mariano Mores, magnificient musicians Anibal Troilo, Osvaldo Pugliese and Ástor Piazzola, and fabulous poet Enrique Santos Discépolo, who defined tango as "a danceable sad thought". In 2009, tango was declared Intangible Cultural Heritage by UNESCO.
During their visit to Buenos Aires, culture and dance lovers cannot miss the opportunity of enjoying a tango show in its birthplace. Check out our list of the most celebrated tango shows in Buenos Aires:
BOCA TANGO

From La Boca neighborhood, famous for its high pavements, cobble-paved streets and colorful façades, Boca Tango invites you to experience a travel to the past with its show called "El Conventillo Viviente", where you will enjoy excellent performances by tango dancers, singers and an orchestra playing live. While you enjoy this true tango show, you can taste an excellent drink at Boca Tango.

Inaugurated in 1890 in Congreso neighborhood, Café de los Angelitos quickly became the favorite meeting place of poets, musicians and payadores (folk singers), who used to share tables with pimps, swindlers and thugs. Conserving its original bohemian charm, the traditional corner of Rivadavia Av. and Ricón St. presents one of the most acclaimed tango shows in Buenos Aires. Accompanied by a menu including local and international dishes and the best Argentine wines, Café de los Angelitos tango show has two singers, ten dancers and an excellent female orchestra performing live.

From the traditional Congreso neighborhood, Complejo Tango offers an exquisite dinner with typical Argentine dishes and wines, a wonderful show that narrates in 5 scenes the extraordinary tango history, and an excellent tango lesson –included– with high-level teachers. Undoubtedly, Complejo Tango is one of the most complete options for lovers of Buenos Aires food, culture and dance.

In Downtown Buenos Aires, El Querandí presents its show called Nuestro Tango to pay homage to the popular sound that identifies Argentina all around the world: Tango. Accompanied by an exquisite menue and the best wines of its own cellar, guests will travel through the history of tango, from its birth in the end of the 19th century and the great singer Carlos Gardel, to Piazzola's modern version of tango.

Located in the heart of El Abasto –the Buenos Aires neighborhood in which famous tango singer Carlos Gardel grew up, – Esquina Carlos Gardel offers a delicious dinner accompanied by a wonderful tango show during which one of the best orchestras in Buenos Aires plays some Gardel's classics, such as famous tangos "Volver" or "Mi Buenos Aires querido", and 22 excellent dancers delight guests with an impressive tango show that will be registered in their retina forever. Undoubtedly, El Abasto neighborhood still hides several tango secrets in its streets.
SEÑOR TANGO

Located in an old market that had been founded by Italian immigrants in Barracas, Señor Tango has been presenting the best tango shows since 1996. The menu offered by the Chef of Señor Tango is as wonderful as the show –declared Show of Parliamentary Interest, of Touristic Interest and of Cultural Interest, – in which 40 artists give a real tango lesson that will stimulate your five senses.