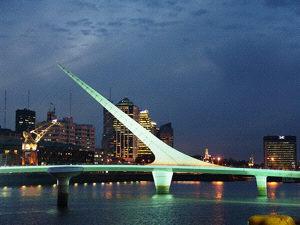 Puerto Madero neighborhood is known for its streets named after famous women in Argentine culture and history. Besides, it also pays homage to women with Puente de la Mujer (Spanish for Woman's Bridge), which has become one of the most emblematic icons in Puerto Madero and Buenos Aires, where both locals and tourists walk everyday along its 170 meters and enjoy a wonderful view of the city.
Located in Dock 3 (Dique 3) in this prestigious neighborhood, Puente de la Mujer was designed by Spanish architect Santiago Calatrava Valls at the request of Alberto González, who donated the 6 million dollars it costed. After three years of work, Puente de la Mujer was finally inaugurated on December 20, 2001. Having a beautiful modern style, this wonderful architectural work represents a couple dancing to tango: The woman is represented by the curved silhouette of the bridge, while the man is represented by the white over-30-meters-high mast.
Puente de la Mujer is only one of the greatest attractions in Puerto Madero neighborhood. After being a semi-abandoned area for years, the project lead by Corporación Antiguo Puerto Madero SA involved the recovery of 170 hectares, turning the neighborhood rapidly into the most exclusive and modern gastronomical, residential and commercial center in Buenos Aires.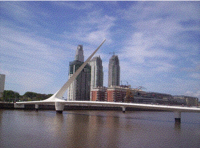 During your visit to Buenos Aires, do not miss your opportunity of getting up in the morning and having breakfast with a dreamlike river view. To do so, nothing better than renting a furnished apartment in Puerto Madero, where you will find a wide range of restaurants, nightclubs and bars, apart from several tourist attractions, such as the abovementioned Puente de la Mujer and the historical Fragata Sarmiento.